Meet the Band
Paul Barrett – Songwriter, Vocalist, Bassist
Paul Barrett is an American musician from Phoenix, Arizona. He is the songwriter, vocalist and bassist for the Conspiracy and Paranormal Rock Band entitled "One World Government." Paul has been a researcher of spirituality, conspiracy, religions, extra-terrestrial life and the paranormal for over 20 years. In 1996 while living in Hollywood, California as a musician, he had several supernatural experiences that changed the course of his life. Paul attended Berklee School of Music and is also a Certified Meditation Instructor. He started writing and developing the One World Government project in 2015. Song titles include: Death Valley, Souls For Robots and Spiritual Cage highlight Paul's extraordinary lyrical talent for delving into subjects of the paranormal and the unknown.One of his favorite quotes is:
"The most beautiful and profound emotion we can experience is the mystical. It is the source of all true art and science." Albert Einstein
James Linton – Guitar
For over 20 years James has been performing, writing, recording, and producing music. He began guitar at the age of 4, has had operatic and speech level training, and taught guitar and voice lessons privately as well as publicly at Axis Music Academy in Michigan. James currently has four records available on iTunes which have sold in the United States, Canada, Europe, Russia, the Former Soviet Union, Scandinavia, China, Australia and Japan. James has been featured multiple times showcasing his guitar talent on Good Morning Arizona, and has had his song What I'm Living For played on KXAM and selected for a finalist in the VH1 song of the year competition in 2004.
James has performed at over 40 reputable locations in the valley, opened for Peter Frampton in California, was acclaimed by Wayne Newton as a "class act" and immediately invited to Las Vegas to perform. Additionally, James was the sole performance act of the pre-Superbowl party for the New York Giants in 2008. Although James still loves creating music and performing, he officially retired as a performing/touring artist in 2008. Since then his focus and passion have turned to becoming an acclaimed recording studio entrepreneur, producer, mix engineer, and developing new artists through his studio. He also is a contributing editor for audio hardware and software reviews for MusicPlayers.com.
His personal style of music is available for purchase and ranges from instrumental Classical and Latin Jazz to Contemporary Christian. He will also be releasing a full-length record of acoustic pop songs sometime in the near future. If you are interested in his music, below are the four albums he has written, performed, recorded, mixed, mastered and produced. Just click on the name of the album to listen or purchase.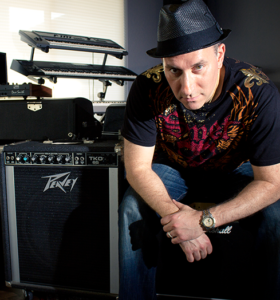 Jason Buchwald – Keyboards
Jason, originally from Brooklyn, New York, started piano lessons at age 7. Briefly leaving the NYC area, he went on to co-found the Buffalo-based rock/pop band "TDM". Insisting on original music, the female-fronted quintet quickly garnered local attention, appearing on local radio and television's Eyewitness News. After their studio debut, TDM went on to perform extensively in the western NY area, and opened for Helen Reddy, The Scintas, and Ronnie Milsap, among others.
Over the last several years, Jason worked with Arizona-based pop/R&B artist Promise the Truth, writing and co-producing. Jason continues to write, record, and perform, and is excited about new projects with James Linton of Soundwaves Recording Studio and playing keys on the upcoming album for One World Government. When not in the studio or on stage, Jason is also the Senior Keyboard Editor for MusicPlayers.com, an online music magazine for professional musicians.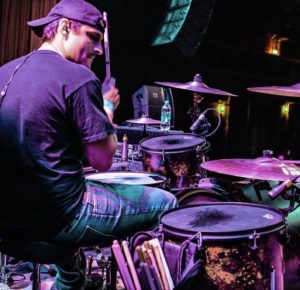 Russell Gargula- Drums
Russell Gargula has been a musician since mid 2000s starting on guitar, then working his way to playing drums. Continuing to the present day, he is still playing in bands and doing various session work while performing shows and recording throughout the west coast. He is proudly endorsed by Bosphorus Cymbals and Regal Tip Drumsticks.